Frozen Drink  Machines
A frozen beverage machine from Mr. Margarita Denver will make your event one your guests will remember!
The machines that we offer are the best and most reliable in the commercial frozen beverage machine industry. Depending on the size of your event and the number of guests you will be serving, we offer two machine sizes:
STANDARD MACHINE - Holds 4.5 gallons of mix total, with 1 gallon frozen in the drink chamber (about 25 8 oz. drinks in the chamber at any one time).
LARGE MACHINE - Holds 6 gallons of mix total, with 2 gallons frozen in the drink chamber (about 50 8 oz. drinks in the chamber at any one time).
Once set up, the machine does all of the work, while your guest are free to serve themselves. You get to enjoy the party too, rather than making and serving drinks!
Our machines require NO ice, NO CO2 cartridges, and NO blenders.
The machines can serve alcoholic OR non-alcoholic drinks. The mix is the same for both versions, you decide if you want to add alcohol or not, and how much when you prepare the mix.
!!! Please make your machine reservations as early as possible before your event. AVAILABILITY FILLS UP FAST, especially for holidays, graduation time, etc. !!!
                                                  Frozen drink machine rental includes: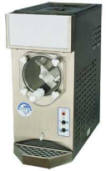 1 mix per machine

1 five gallon bucket for mixing

1 utility cart (on wheels)

1 extension cord.

For frozen alcoholic beverages, you will need one 1.75 liter bottle of alcohol per mix, which will make 4 gallons of product for the machine. Of course, you are welcome to add more or less alcohol (up to a total of 3 liters of alcohol) to control the strength of the drinks being served. Using more than 3 liters of alcohol per mix will prevent the mix from freezing properly.
| | | |
| --- | --- | --- |
| 0-50 Guests | 1 Standard Machine | 1-2 Mixes |
| 50-100 Guests | 2 Standard Machines or One Large Machine | 2-3 Mixes |
| 100-150 Guests | 2 Large Machines | 3-5 Mixes |
| 150-200 Guests | 3 Standard Machines | 7-10 Mixes |
| Over 200 Guests | Please Call | Please Call |
For frozen beverages (either alcoholic or non-alcoholic) you will need roughly 3 gallons of water per mix to prepare the product for the machine. Please ensure that you you have a source of water readily available to prepare the mix. Mr Margarita Denver does not provide water.
POWER REQUIREMENTS: Each frozen drink machine draws 12 amps, and requires its own dedicated circuit for proper operation. Please ensure that you have a dedicated outlet available for EACH machine at your venue. The dedicated outlets can not have any other electrical devices plugged into them (no toasters, coffee makers, freezers, microwaves, etc).
PLEASE NOTE THAT MR MARGARITA DENVER DOES NOT PROVIDE ALCOHOL UNDER ANY CIRCUMSTANCES. YOU MUST PROVIDE YOUR OWN ALCOHOL IF YOU CHOOSE TO SERVE ALCOHOLIC BEVERAGES.
                                                                Enjoy your event!!